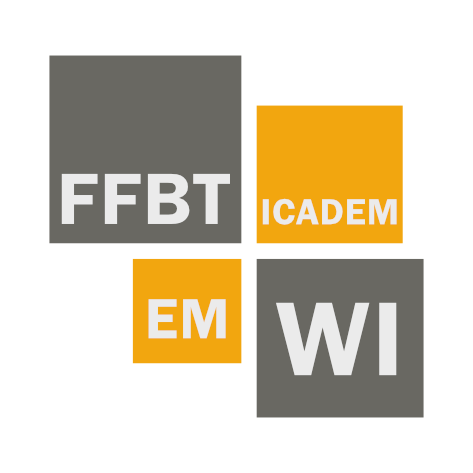 ICADEM – International Council of Academic Departments of Engineering and Management
Our self-conception
The International Council of Academic Departments of Engineering and Management (FFBT WI) represents the interests of academic institutions with industrial engineering and engineering management degree programs especially in German speaking countries versus politics, companies and society.
One of our most important tasks is to define the standards for quality assurance of the study programs in the named field regarding to the set of rules given by the Higher Education Qualification Framework for Engineering and Management. Members of the ICADEM are universities with at least one industrial engineering or engineering management degree program based on this set of rules.
Three pillars of study programs in Engineering and Management
The pillars of these programs are technology, economics/business and specified integration subjects. The latter are intended to integrate technical subjects with economic subjects aiming for the specific and special interdisciplinarity of the study programs in Engineering and Management. One important goal is to develop graduates into responsible personalities who are able to think in an interdisciplinary manner and lead intercultural teams.
Here, intercultural means both the professional culture with the bridging competence of technology – business and the ability to interact successfully and appropriately with individuals and groups of other cultures.
Qualifications framework
The Qualification Framework for Industrial Engineering and Management formulates the necessary competencies in the sense of a quality seal. It is the most important element for the quality assurance of teaching and studying in our field, especially since we understand Industrial Engineering and Management as an independent field of science.

On the one hand, the Qualifications Framework is intended to provide orientation for the design and further development of curricula, and on the other hand, it serves as a clear demarcation from other courses of study. It contributes to the fact that a degree in Industrial Engineering and Management is a recognized "seal of approval" that opens up the best career prospects for graduates. All member universities have undertaken to comply with these standards.
Internationalization of teaching
These standards are regularly discussed and further developed in the sense of a continuous improvement process. The group of stakeholders involved in this process will be gradually expanded to include universities from other regions and continents in order to learn from each other and to strengthen the field of industrial engineering in an international context.
Further partners and new members are welcome in the network of International Council of Academic Departments of Engineering and Management!
Kontaktadresse
FFBT WI e.V.
Prof. Uwe Dittmann
Tiefenbronner Str. 66
75175 Pforzheim

©Wirtschaftsingenierwesen 2023